Dr. Rajinder Kaur Saggu
Oncoplastic Breast Surgeon
Indraprastha Apollo Hospitals,
New Delhi
ABOUT BREAST CANCER SURGEON DR RAJINDER KAUR SAGGU
Dr.Rajinder Kaur Saggu has an overall experience of 18 years as a Surgeon and 13 years of rich professional experience as a Surgical Oncologist.
Dr Rajinder Kaur Saggu is one of the best breast cancer surgeon in Delhi. Her area of expertise is Breast cancer and non-cancerous conditions of breast. She has wide experience in performing all types of breast surgeries.
She strives to treat each breast cancer patient with personalised attention, the best diagnostic and treatment options and follow up care to improve quality of life after treatment.
After completion of post-graduation in General Surgery from GMC Patiala, Punjab, she moved to New Delhi and joined Lady Hardinge Medical College as a Senior Registrar in 2004. While practicing General Surgery, she found herself drawn to patients with breast problems especially breast cancer.
To fulfill her passion, Dr.Rajinder Kaur Saggu moved to her true calling and joined , Tata Memorial Hospital, Mumbai, Asia's largest cancer centre, as a Senior Research Fellow in Breast Oncology in 2008.
Under the able guidance of Dr.Rajendra Badwe, she learnt latest technology and reconstructive techniques and multimodality treatment of breast cancer.
She still wanted to enhance her capabilities to the global level and stretch herself more. This made her move to M.D. Anderson Cancer Centre Houston, Texas as a Trainee in Breast Oncology under the able guidance of Dr Kelly Hunt.
After returning from Texas, Dr Saggu is associated with Indraprastha Apollo Hospitals, New Delhi since 2010.
She has been following her passion and beliefs till date and is also actively involved in promoting breast health awareness along with promoting a healthy lifestyle.
PROFESSIONAL JOURNEY
Work Experience
• Senior Registrar Lady Hardinge Medical College, New Delhi 2004 to 2007
• Surgical Associate, Bhatia Global Hospital 2007-2008
• Senior Research fellow in breast (Surgical Oncology) Tata Memorial Hospital Mumbai 2008-2009
• Trainee in Breast Oncology & Reconstructive Breast Surgery M.D. Anderson Cancer Centre, Houston, Texas (US) 2009
• Associate Consultant Surgical Oncology, Indraprastha Apollo Hospitals New Delhi, 2010-2015
• Sr Consultant Surgical Oncology, Indraprastha Apollo hospitals, New Delhi, since 2015
Education and Training
• MBBS – Govt Medical College, Miraj (Mh) 1997
• MS (Surgery) – Govt Medical College, Patiala, (Pb) 2002
• Breast Fellowship – Tata Memorial Hospital Mumbai, 2008
SOCIAL INITIATIVE
In order to provide services to the underprivileged women, she along with her husband Dr. S S Saggu, set up a charitable organization – Guru Nanak Cancer Care Trust.
The Trust was established on May 27th, 2012 at the Jonti Village, Delhi. Over the years, she has treated several people suffering from various diseases of breast.
The mission of the Trust is to treat, educate, and support people fighting breast cancer.  We aim to create awareness on the importance of early detection of Breast Cancer.
Dr Rajinder Kaur Saggu is actively involved in spreading awareness about breast cancer by holding CMEs, awareness talks, forums on various platforms.
She regularly holds public meetings and writes articles on breast cancer awareness.
PROFESSIONAL MEMBERSHIPS
ASI (Life Member of Association of Surgeons of India)
ABSI (Association of breast surgeons of India)
Member of Delhi Breast Oncology Group (DBOG)
Member of Breast Imaging Society of India (BISI)
Indian Association of Surgical Oncology (IASO)
Association of Gynae Oncology
IAGES-1747 (Indian Association of Gastro – EndoSurgeons)
ARTICLES & BOOKS BY DR. R K SAGGU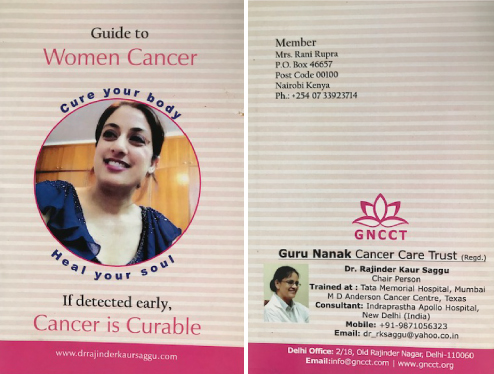 2012 :
Guide to Women Cancer –
Cure Your Body, Heal Your Soul.